1.Who are Saunterland Africa Tours?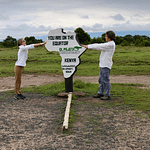 Saunterland Africa tours is a premier tours and travel company comprising of a team of African travel fanatics. We offer safaris and holidays across Kenya, Uganda and Tanzania and in the beaches of Zanzibar. We are dedicated to offer top notch services designed to create a break from everyday life through tailor made safaris and holidays for individuals, families, small or large groups as well as special interest groups.
What types of Safaris and holidays does Saunterland Africa Tours offer?
We are an outfit that offers both Camping and Lodge Safaris. For a camping package which is best suited for budget travelers, we put you up in tents in our campsites and/or budget hotels (where applicable). For a lodge package which is pegged at slightly higher costs, we put you up in luxury lodges during your stay. Please note that we can piece up a package for you that includes both camping and lodge upon request. Aside, we also offer trekking and mountain-climbing holidays for outdoor lovers with various activities therein. We can organize beach holidays for those who just need an easy time with sun-and-sand. In addition, we offer other services such as airport meet-and-greet and transfers where you will definitely experience our incomparable high quality customer service.
When is The Best Time to Go On a Safari?
Best time to visit Kenya https://saunterlandtours.com/destinations/
Kenya
The best time to go on safari in Kenya and experience a huge density and diversity of wildlife is when the annual migration of millions of wildebeests and zebras descend on the Mara plains with predators close behind. The best time to see this wildlife spectacle is from July to October. Other parks in Kenya are also excellent and the best time to visit these would be during the dry seasons – January through March and July through October. During the dry seasons, there is water scarcity hence animals tend to gather in more concentrated numbers around permanent water holes, rivers and lakes, so they are easier to find. The vegetation is also less lush which simply means that viewing animals from a distance is easier. It is suitable to climb Mt. Kenya during the dry seasons. One can also enjoy a beach holiday any time of the year.
Best time to visit Tanzania– https://saunterlandtours.com/tour-destination/tz/
Tanzania
If you want to see the Great Migration unfold, head to Tanzania's northern parks; the Serengeti and Ngorongoro. The best time to witness the migration is probably February – March when the wildebeest and zebra have their young. Not only can you enjoy seeing baby animals, but the predators are at the highest number too. Because the herds also concentrate in the south of the Serengeti, it's easy to plan your wildlife viewing in that area. June to November is Tanzania's dry season and is the best time to visit all the parks (and you can always hop over to Kenya's Maasai Mara to witness the Great Migration during this time). Tanzania's Southern Parks are perfect to visit during this time since the animals tend to congregate around permanent water and it isn't so hot and humid. All of Tanzania's parks suffer from the rains which generally fall from March to May in the North, and from November to May in the South and West. Roads get washed out and given the sheer size of Tanzania's parks, the animals tend to spread out, and this makes wildlife viewing less satisfying (if you're looking for sheer numbers of animals). December through March can get quite hot and humid, especially in Western and Southern Tanzania which makes it a little uncomfortable to spend a lot of time in the bush. If you want to add a hike up Mount Kilimanjaro to your safari, the best time to hike is January – March and September – October. One can enjoy a beach holiday any time of the year at the Zanzibar Islands.
Best time to visit Uganda– https://saunterlandtours.com/tour-destination/ug/
Uganda
Uganda has some very good National Parks which are best visited from December – March or June – September, when it is predominantly dry. Most people who choose Uganda as a safari destination go to see the Mountain Gorillas and to Murchison falls, where Nile River originates. Although rain is likely all year round, the rainy seasons make the trek up to the gorillas particularly difficult, so avoid the months of March-April and October-November
What are the "The Big Five" animals?
The Big Five game animals are Lion, Leopard, African elephant, Cape buffalo and Rhinoceros. The term "Big Five" was actually created by big game hunters and refers to the five most difficult animals in Africa to hunt on foot, and therefore the kills that were most highly prized. So rather than their size, the members of the Big Five were chosen for the degree of danger involved when they were cornered and shot at. However, poaching of the animals is never allowed. As tourism took off, safari tour operators adopted the term "Big Five "for marketing purposes and the power of the name has attracted countless people to Africa.
What Type of Vehicles Do You Use On Safari?
Saunterland Africa Tours uses customized 4×4 vans with pop up roofs or 4×4 land cruisers/jeep. The 4×4 land cruisers/jeepare charged higher than the tour vans. Our vehicles have adequate roominess and good suspension combine to make for a very comfortable ride across the African plains. Our safari vehicles are additionally outfitted with ice chests stocked with ample bottled water. There is a safari library of field guides to aid in your understanding of the flora and fauna. Every traveler is furthermore assured of a window seat directly under a pop-up roof in East African vehicles. The specific vehicle used on a particular safari depends on the country and the reserves to be visited. All vehicles are equipped with two-way radios and are maintained to provide the maximum level of comfort and safety.
6.How Much Does a Safari Cost?
There is a safari priced for just about everybody, but there are major differences in accommodations, services, transportation and food. If you are interested in a custom tour for you and your family will also affect the price tag. Generally speaking, a budget safari (participatory camping, backpacking, basic group overland) can cost as little as $100 to $135 per person per day. In the 150 US Dollars to 300 US Dollars per person per day range, you might stay in three-and four-star lodges, have full service camping and some domestic flight time. If you can pay between $400 and $700 per person per day, you can stay in small, remote, five-star lodges and luxury camps and travel more by plane (it's less tiring and offers spectacular views!). Other factors that up the price are exotic modes of travel, such as by elephant or hot air balloon and special cultural experiences, such as visiting a bush home, will be more expensive. And don't forget airfare to Africa, which isn't necessarily included in your safari package.
7.Do you tailor-make safaris for groups and/or individuals?
Yes, we can tailor a safari for an individual or for larger groups. Contact us on info@saunterlandtours.com for further information.
Do We/I Need Any Visas?
A valid passport is needed for ALL international travel. Please ensure your passport is valid for at least 6 months AFTER returning from your trip – this is an international requirement. It is also essential that you have sufficient blank pages in your passport for visas, entry stamps or temporary residence permits. We recommend allowing two blank pages per country that you are planning to visit. Some countries will require entry, re-entry or departure permits and/or visas, which are issued at their consulates/embassies. Saunterland Africa Tours is unable to offer a visa service for any of our clients as we cover a number of African destinations and our clients come from all over the world. Therefore, it is highly recommended that you contact the relevant issuing authorities in good time to double-check the entry requirements, and then arrange for all the necessary permits and visas you need. Your local visa service agent or shop is also a convenient and useful solution: they will make sure you have all the necessary documentation and will apply for the visa on your behalf. Saunterland Africa Tours cannot be held responsible if visa applications are denied for any reason. We also cannot be held responsible for any changes in costs, requirements, delays, or loss of passports caused by the issuing authorities.
9.How Far in Advance Should I Book My Safari?
It is highly recommended to make arrangements for your safari in advance as far as possible. 3-6 months is most convenient and assures you availability especially during the months of the high season, July-mid September, Christmas – New Year. This saves last minute searches which often find you compromising standards and with no guarantee of availability. Some safaris sell out months ahead of their departure dates. This is especially important for those planning to travel during peak seasons and for those adding extensions to scheduled trips
What are The Weight and Size Restrictions on Luggage When Traveling in Africa?
We offer two types of air transfer: either a private charter where you have sole use of the aircraft, or a scheduled air transfer based on a "seat-in-plane" basis where you share the aircraft with other guests (and thereby benefit from the lower cost). Unless specifically requested to do otherwise, we will automatically book you onto the scheduled air transfer with other guests, as this is the more cost-effective option. It is most important to note that on charter aircraft, allowances do vary. While most charter flights now permit 20 kg, others still limit passengers to 12kg allowance per passenger, which is strictly enforced due to safety factors and the limited space available on these aircraft. In either instance, the weight allowance includes hand luggage and camera equipment. Charter companies insist on a soft carry-all (instead of a suitcase) with the following maximum dimensions: 80 cm long by 30 cm wide. Please keep in mind that the baggage compartments on some of the light aircraft are only 25 cm high, so the pilots must have the ability to manipulate the bag into the compartment.
Do you offer family safaris?
Africa provides outstanding value for families and more properties are now making it easy to travel with young children. However, some destinations and establishments cater better for children than others. In most regions children under the age of six years are generally not allowed on game drives in the parks and reserves, and some properties do not accept children under 12 years of age. Most lodges have swimming pools and baby-sitting services, and some have specialised children's programmes. We can advise on these so please contact us for more specific information.
12.What types of food would we expect on Safari?
Most lodges and safari camps have restaurants and licensed bars, and the food offered ranges from good basic meals to epicurean style. The standard of food in lodges and camps is generally very good.It is possible to get vegetarian and most other food preferences in East Africa. If you have any special dietary requirements let us know in advance and we should be able to cater for you. As a rule, do not eat anything purchased at the side of the road and wash fruit and vegetables thoroughly before eating.
13.What is a single supplement?
A single supplement is a fee imposed by hotels, lodges and camps on single travelers. Tour prices are quoted based on two people sharing accommodation. If someone takes a room by themselves, they have to pay the per-person price plus the single supplement fee. It is the excess cost you pay in occupying a room designated to take two people by yourself alone. Can single Travelers join a group and share a room with other single travelers? Some people frequently ask if they can travel alone or join a group? With us the answer is Yes! provided there is another single traveler of the same sex, on the same safari, and the other person is naturally willing to share! So, go on and join today! This is a great way to meet like-minded people from all over the world, of all ages and interests!
Do we just take casual clothes or is there the occasional need to dress more for
Casual clothing is all that is required in most of Africa. However, there are exceptions such as some deluxe hotels in urban areas where you might feel more comfortable at dinner in a jacket and tie or cocktail dress. However, it is often important that you carry only a limited amount of light clothing, preferably cottons, for your stay in the bush. Clothing should be in neutral colours – khaki, beige, bush green. A good guideline is three sets of socks, underwear, slacks/shorts, and shirts. One jumper or cardigan. A hat is essential! In winter take warm clothing for the evenings – a fleece and long pants. Flying safaris are more restricted as the aircraft sometimes allow only around 12kg of luggage per person, but many lodges and camps in the remote areas offer a complimentary laundry service to assist.
15.What kind of animals will I see?
In a typical day you can expect to see 15 to 40 animal species- lions, elephants, giraffes and rhinos, to name a few. Buffalo and wildebeest may be in herds of hundreds or more. Others, like the swift cheetah, are more likely to be found alone. And then there are the birds, over 300 species! Birds in Africa are particularly colorful and easy to spot. Even if you've never looked at a bird before, with the help of your driver you'll easily learn to identify twenty to thirty of the most striking and beautiful birds of Africa. Experienced birders can expect to see 60 to 100 different species in a single day. A special thrill is in store if your safari coincides with the annual wildebeest migration. You'll see thunderous herds of wildebeest and zebra, totaling more than 1 million, stretching across the horizon. On their trail follow the predators the big cats, and the scavengers hyenas, jackals and vultures.
How close will I get to the animals?
Because you are traveling in protected game reserves, many of the animals have no fear as long as you are in a vehicle. You can get surprisingly close, especially when lions are busy feeding on prey, or at rest. Elephants often walk up to and even surround a minibus. Monkeys and baboons may study you as closely as you study them. But natural behavior will only continue if you give the animals some space and are quiet. If you go too close, or talk too loudly, the animals may just leave. Most animals will be more interesting if allowed the space to continue their natural behaviors- stalking, mating, playing with their young. Your driver will know the best viewing distance. Please do not encourage him to "stalk" or otherwise interfere with hunting or other activities crucial to the animal's survival.
Am I guaranteed to see a requested (particular) animal while out on Safari with your Company?
Much as our highly qualified, knowledgeable and experienced Driver-Guides go out of their way to make your Safari a memorable and true African experience, we do not guarantee 100% seeing a requested particular animal. This is because our National Parks provide natural home environments to the animals that roam freely in the bushes unlike the case of being caged in Zoos.